We are a purpose driven brand on a mission to lead change from within the drinks industry. Our ambitions may be big but we taking a low carbon journey to a Net Zero commitment by 2030. So far so good.
In addition we are working with Planet Mark as well as establishing our 3% For People and Planet Fund – giving 3% of sales to charities and non-profit organisations with shared values and actions.
As Ed Woolner, the man behind the brand says, "We all know how precarious our planet's future is, how hard it is to protect and restore it, but we can have a positive impact - as custodians of the land, parents and consumers. With each choice we can make a difference and here at Feel Good we have the opportunity to support others with those choices too. That makes me very happy."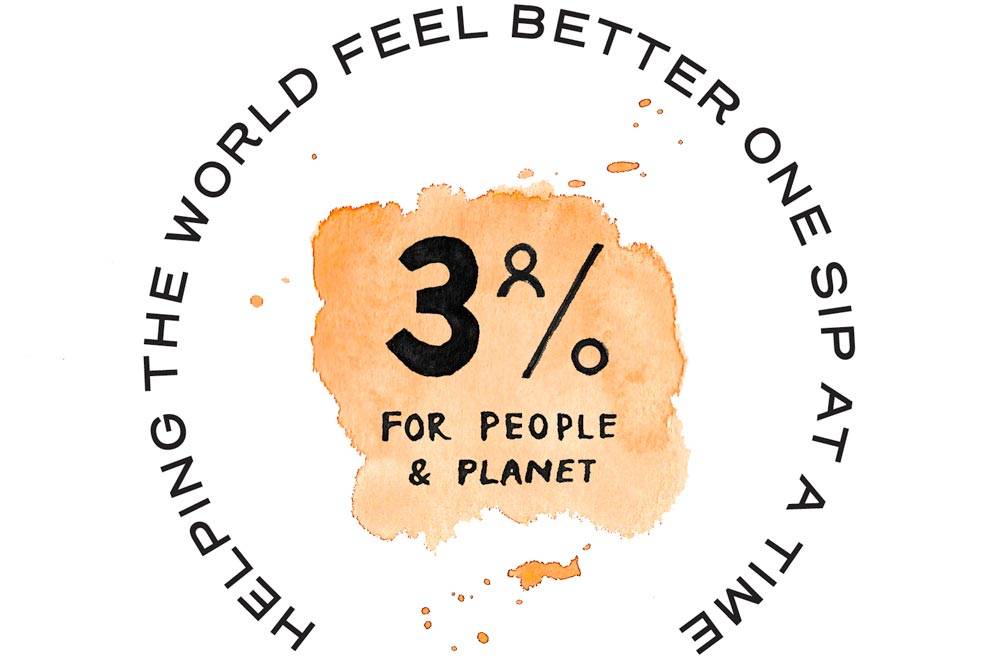 Finding your Feel Good Moment
We all have feel good moments. Mine is being in the sea. Whether it's swimming, surfing or sailing, either on my own or with family and friends, it's exactly where I want to be.
I was lucky that I knew this from an early age having moved to the Gower when I was 8. Living by the coast became an essential part of my wellbeing and so, at the age of 21, I chose to put the sea permanently at the centre of my world when I moved to West Dorset. It was one of the best decisions I ever made and has kept a balance throughout my life.
Getting in the water allows me to challenge myself in a variety of conditions and, by being present in the moment, it gives me space to think – often influencing some of life's big decisions. Like launching a purposeful brand, Feel Good drinks.
I wanted to create something that celebrates our wellbeing and encourages us all to think about life in a different way. I know that's a lot to expect from a can of drink but stick with me.
Feel Good drinks are a range of 100% natural, great tasting, fruity sparkling waters that contain no nasty additives, added sugars or sweeteners, making them a healthy choice for all. So far so good but it's not enough to just think about what is inside the can, we must consider the can itself and the wider impact these products have on our environment.
In our production of this drink we have wholeheartedly committed to a low carbon progression to net zero by 2030. I am bursting with pride at the pioneering strides we are taking and the relationships we are building on the way, like the work we are doing with Planet Mark. And here's another reason why.
We have established The Feel Good 3% People Planet Fund. It's our own way of giving back. The fund donates to, and partners with, charities that support personal and planetary wellbeing. We work with likeminded initiatives who are as committed to the natural world as we are. We all know how precarious our planet's future is, how hard it is to protect and restore it, but we can have a positive impact - as custodians of the land, parents and consumers. With each choice we can make a difference and here at Feel Good we have the opportunity to support others with those choices too. That makes me very happy.
So what's your feel good moment? We would love to know. Come and join us on our epic journey and let's share our discoveries.
Ed
The Man Behind The Brand
#DoGood #BeGood #FeelGood #FeelGoodMoments
Mission Possible
Feel Good Drinks is a purpose driven brand on a mission to lead change from within the drinks industry.
We took five steps on our carbon journey.
1. We worked with industry experts and Planet Mark to measure and gain an independent, reliable view of our business and Green House Gas (GHG) emissions. They looked at the activity across the 3 scopes of our business to calculate our carbon footprint. The first two scopes included measuring emissions in the services we control like on site fuel combustion and the amount of electricity used.
2. We looked at the facts. In 2020 our carbon emissions were calculated at 203 tonnes of CO2e. Despite the global pandemic, 2020 was a busy year for us as we launched Feel Good – this felt like a good baseline for our business. We calculated our footprint and developed an action plan to reduce our emissions; setting priorities and targets to work towards. This underpins our commitment to achieving net zero by 2030 in line with SBTi guidelines.
3. We immediately offset our carbon footprint with high quality carbon credits from Gold Standard certified projects. We know offsetting alone will not allow us to reach our goals, but it is a good place to start. This means that, for 2020, we became carbon neutral.
4. So far so good but we knew we could do more so went a step further and offset more than twice our 2020 emissions by funding projects providing clean water access to those who need it. Just one way we are contributing to a healthier planet and people, giving back twice as much to the environment and communities.
5. The most important step so far – the action! We are at the beginning of a long term commitment to reducing and eliminating our carbon footprint completely. In line with scope 3 we are already working closely with our suppliers and manufacturers to tackle our sourcing and production 'carbon hotspots'. It is a huge but critical task on our journey to 2030 and the goal of being net zero.
So Far So Feel Good
"Feel Good drinks have the vision and a genuine commitment to becoming a regenerative business and I am really glad to see the changes that they have already started to make. It is a pleasure working with Ed and the team supporting their transformational journey."
Marina Bradford
Sustainable Procurement Consultant (Bemari)


At Feel Good each decision we make is a big one because, before we think about the product, we think about the planet and the people. We are at the start of our sustainability journey and are constantly looking to improve our impact as we progress.

So every time you open a can of Feel Good think of this;
- We have offset 497 tCO2e, with clean water Gold Standard schemes from Planet Mark
- We have donated 63k cans to food banks and 7.5k cans to the NHS
- We have donated 750 rucksacks and sleeping bags to homeless people
- We have already donated over £10k to charity so far this year through our 3% for People and Planet Fund
- We have addressed our direct and indirect emissions.
- We are working with sustainability specialist, Marina Bradford, to learn more about indirect emissions in our supply chain
- We have committed to a net zero business by 2030
- We are supporting ocean marine restoration and seagrass rewilding
- We are building awareness of the climate change challenge
- We are working with key partners on events in 2021 around G7 and COP26
- We are focusing on community and the benefits of blue health
- We are helping people gain new water sport experiences
- We are running and partnering in a series of events and competitions
- We have chosen to use aluminium cans because they can be recycled forever and using recycled aluminium saves 95% of energy compared to primary production. So don't forget to recycle your can in the appropriate bin or take it home and put it in your recycling bin.
Turning The Tide
We think you will agree it is a strong start but how do we get to net zero? Talk is good but action is better.
We know it's not just about the carbon. With the analysis from our value chain and guided by the United Nations Sustainable Development Goals, we formulated a plan. We would love to share it with you.
We pledge to:
Source ingredients closer to the UK and increase the proportion of organic fruit in our recipes (Goals 3, 7 & 12)
Work with our logistics partners to transition to low emission transport (ie. electric vehicles) as quickly as technology allows. (Goals 7 & 12)
Reduce our scope 3 emissions by 36% and carbon intensity per litre of our drinks by 50% by 2025, keeping our scopes 1 and 2 emissions at zero. (Goals 12 & 13)
Work with our partners to lower the environmental footprint of our packaging by increasing the amount of recycled material used and ensure we are purchasing materials from renewable energy sources. We also want to decrease our food miles through our transportation network (7 & 12)
Share our experience and champion regenerative business to drive change from within by engaging our customers to raise awareness and promote lifestyles that benefit people and planet (Goals 12 & 13)
Contribute 3% of sales to causes that help people and planet feel good (3, 6 & 11)
Promote 'blue carbon' – the power of marine ecosystems to remove carbon from the atmosphere and improve UK coastal biodiversity and resilience through our work with environmental initiatives like Project Seagrass (13 & 14)
3 Percent For People & Planet
At the beating heart of Feel Good is a mission to make this world a better place for everyone.
We wanted to create a brand that could give back to people AND the planet. Giving people a better choice about how they consume. That's why we created the 3% for People & Planet Fund. We donate 3% of our sales to charities that support personal and planetary wellbeing. Now that feels good doesn't it?
We facilitate #FeelGoodMoments in partnership with charities that align with our values of fostering communities, the environment and personal wellbeing. The good news is we can help more people as Feel Good grows. Every can sold makes a difference.
Feel Good employees get involved too. Every year they each work 4 days at the charities we have partnered with on #DoGoodMoments.
So far this year the 3% People & Planet fund has donated over £10k to charity and we are excited to introduce you to the people we have been working with…
Project Seagrass is a brilliant conservation initiative to restore lost ecosystems that absorb high levels of carbon. They are at the forefront of societal change to enable the recognition, recovery and resilience of seagrass ecosystems globally – a crucial planetary life support. Marine conservation is a subject very close to Feel Good leader Ed Woolner's heart and one of his main objectives is to offset carbon via ocean and sea protection to restore ocean biodiversity and promote blue health. So this is a very special partnership.
Feel Good are joining forces with Project Seagrass to assist in their ocean marine restoration including programmes to rewild seagrass, invite them to speak directly to our community and financially contribute to a short film they have commissioned for the G7.

The Wave is the first inland-surfing destination of its kind, where people of all ages, backgrounds and abilities can experience the joy of surfing and its physical and mental health benefits. Our Feel Good leader Ed, who has been surfing since he was 8 years old, is passionate about the power of blue health. He believes everyone should have access to this type of activity. It's not just about surfing. It's about getting back to nature, improving health and well-being, connecting with other people and having a lot of fun in the process!
Feel Good will be working with The Wave on their forthcoming social impact programme to help those who would not have the opportunity to experience surfing, will spread the word about the benefits of blue health and run a series of events and competitions.
Planet Mark is a sustainability certification for every type of organisation which recognises continuous improvement, encourages action and builds an empowered community of like-minded individuals making a world of difference. At Feel Good we are delighted to be part of this movement. We have already committed to a net zero planet and will continue to build awareness of the challenges we face with climate change and will collaborate on events around G7 and COP26.
A Feel Good Future
We want to understand our place in the world, as a brand that can support and make change. We want to be a business that gives far more than it takes and, once we reach our goals, immediately sets new ones.
Our partnerships with likeminded charities and initiatives aim to make a real difference. And we need your help too.
And we need your help too. We want to find out what makes people feel good and create more of these moments. While we hope to inspire and educate we know we also need to listen and learn. We have never felt better about the future.